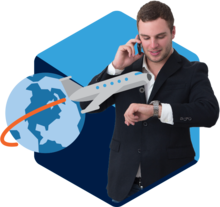 By serving a different range of corporate clients, with annual volumes between 300 and 4,000 plane tickets issued for internal and international routes, we have managed to get a key position on the Romanian ticketing market, becoming one of the most important IATA - BSP ticketing companies.
At present, we have partnerships with all the airline companies that operate flights from and to Romania as well as with low-cost companies from all over the world. More than 100 countries are easily accessible through us!
If you anticipate a more intense traffic for some routes, we can negotiate preferential fees with the partner airline companies for the identified destinations and conclude tripartite agreements under favourable terms.
We are aware that, in business especially, time is money. This is the reason why our consultants provide to you the most effective flight routes, so that you always arrive on time, rested and ready to achieve your business objectives.