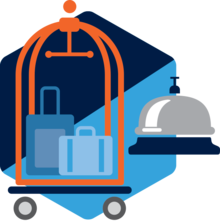 We believe that for delegations, comfort matters. A restful sleep, a tasty dinner or breakfast and why not, a short escape at the spa or gym – will bring you the wanted recreation at the end of a busy day, spent away from home.
Our accommodation offer in Romania includes over 400 direct contracts with hotels in the major cities of the country, and with the help of our external partners, we have online access to a network of over 200,000 accommodation units from all over the world.
In no time we can access hotels of every comfort class and for every budget, all you have to do is choose the option that fits best for your needs in terms of quality, services and proximity!