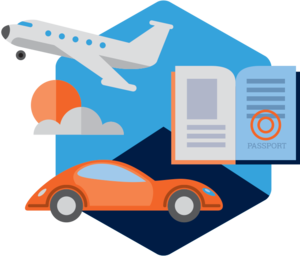 In order for you to save time and travel without worries, EXIMTUR BUSINESS consultants take care of all the details before, during and after your business travel.
Along with the "classical" services of plane ticket booking and accommodation, we can offer you a wide range of related services, which include: transfers airport-hotel-airport transfers inside the country and abroad, visa intermediation, train ticket booking, car rentals with or with no driver, travel insurance, useful information, gift vouchers for your company's employees.
Transfers - with the help of our carefully selected partners, we take care that you reach the destination in time and safely, that you are picked-up from the airport with the car and transferred privately to the desired location.
Visa support and intermediation - when travelling to countries with a special visa requirement, we can offer you all the specific information regarding the issuance of the visas and we will facilitate you in obtaining them.
Train tickets, rent-a-car, rent-a-bus - through our services you will benefit from a comfortable and safe means of transportation for you or the entire team, wherever you are.
Travel insurance - we are truly optimistic, but also careful. We recommend that for your safety, you conclude medical and travel cancellation insurance, the latter also covering the cancelling of the travel as a result of airline company bankruptcy.
Delivering the travel documents - we transmit to you the travel documents and any other requested documents using the fastest way possible - either in electronic format, or through our national fast courier partners in maximum 24 hours.
Preparatory information - some travels need additional preparing. With our help, you have the information at your disposal - regarding the political, economic and social climate of your destination country, the medical clinics that offer special services and also the main tourist attractions and events that will take place in that country.
Incentives & Rewards - for rewarding your employees, we have created a simple system for purchasing gift vouchers, to which you can subscribe as a company. As a result, your employees will be free to choose for themselves the destinations where they want to relax and enjoy themselves. Our long experience in leisure travel, strong partnerships with service providers in this field, the diversity of destinations and tourist products offered and not the least our care for offering a good value for your money, are the facts that recommend us. Reward your employees!