7 mobile apps designed to simplify your business trips
In a world fiercely governed by technology, you need to keep up to date with the latest trends and to dedicate yourself exclusively to your business. First and foremost, business travel implies planning, and in this area technology can be quite convenient.
If you use a mobile app to call a taxi, order food or book a flight, why not use applications that you can easily install on your smartphone when you're getting ready to go on a business trip?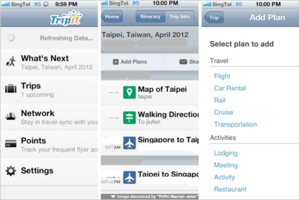 Free app available on Android and iOS
When travelling abroad, sometimes you have to spend a lot of time waiting in airports. Enter TripIt, which will help you find your way through any international airport. Just send an email with your flight information and the application will provide a complete itinerary for you to follow, starting with your flight schedule, the boarding gate where you have to be and useful information on security checks.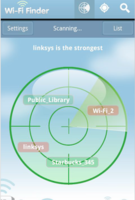 Free app available on Android, iOS and BlackBerry
In an unfamiliar city, you have to be connected to the Internet in order to access information as quickly as possible. Wi-Fi Finder will locate all the hotspots with wireless connection, as well as all the places with Wi-Fi in your vicinity. Just like that, your business trip becomes smoother and more convenient.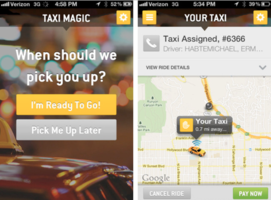 Free app available on Android and iOS
Finding a taxi in a city abroad can be quite the challenge. Taxi Magic uses your phone's GPS to connect to the taxi dispatch centres nearby, and with the simple push of a button you'll have a taxi waiting for you in just a few minutes. You can also use the app to pay for tolls and produce an e-receipt for your expense reports.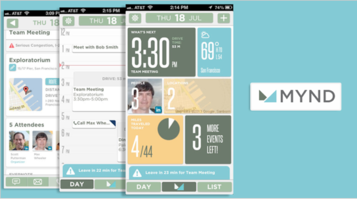 Free app available on iOS
More than a calendar, this app can turn into your trusted personal assistant. It helps you plan your day and make real time updates to your schedule. The app offers a lot of features, including one that notifies your business partners if something unexpected comes up and you might be late to a meeting.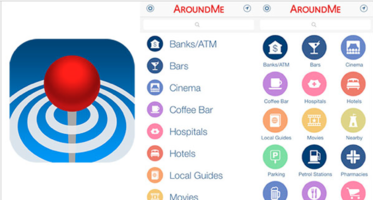 Free app available on Android, iOS and Windows Phone
When travelling in the country or abroad it is easy to get lost in a city you're visiting for the very first time. Around Me will help locate for you all the services and points of interest you might find useful, such as banks, service stations, company headquarters, hospitals, hotels and others. Once you've selected your destination, the app will map out a route for you to follow.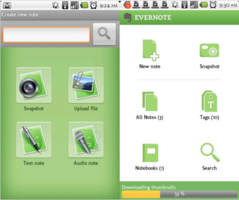 This cross-platform app is free to use subject to certain limits and offers paid plans for upgraded versions.
In addition to being a mobile app, Evernote is increasingly used as a desktop application. It's designed for efficient note taking and organising, storing your data in the cloud.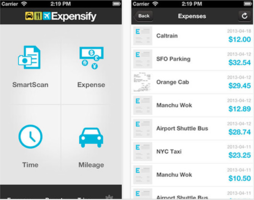 Free app available on Android, iOS and BlackBerry
Expense management and expense reports are important aspects in business travel. Expensify helps you keep track of your expenses: it syncs your credit or debit card data and records the payments made with them. For cash transactions, just scan your receipt using your smartphone and Expensify will add it to the data base. At the end of your trip, you will receive your expense report in a pdf file by email.
Be smart in using technology and it will help you save time when planning your business trip. There are many applications that can prove to be very useful in streamlining your business travels.